No Man's Sky was unquestionably one of the most exciting titles to release this year. It was up there as one of the big ones. Perhaps expectations had grown too high as he answered the same tantalizing questions vaguely over and over… Different interviews time and again, only served to amplify our hope for No Man's Sky under a false pretense.
---

Developer: Hello Games
Publisher: Hello Games
Certificate: 7+
Avg Game Length: As long as your attention span allows
No Man's Sky - A Regrettable Affair Edit* - After a little more research soon after release, I admit Sean Murray did indeed lie!
Sean Murray would have been under incredible pressure on release day. He was one of the very few who knew No Man's Sky, his baby, could only ever under perform after the colossal amounts of expectation stacked onto it by the media… and himself
Playing No Man's Sky Was Like An Interactive Broken Dream
No Man's Sky was a curious experience in that it was simultaneously a good and bad experience. It just about scrapes to a point of being acceptable as a marketable 'finished' product. I'll get into what I mean by that later. At the same time, the areas of No Man's Sky that do function well will leave you wondering what more could have been done to amplify an experience expected of a triple A title. Again, with no thanks to the media hype, this is no triple A title. Which only serves to sour the initial player experience as the hours roll on and a realisation sinks in. A realisation that No Man's Sky is almost as void as its setting.
With the main premise being exploration in a massive procedurally generated universe, comes problems that would never have been predicted until playing the finished article. A bit like viewing a wonderful house only to move in and realise the plumbing is broken. At the risk of listing off more negative metaphors, let's get into why I'm saying all of this and start off with the gameplay that players may or may not look forward to.
Mis-Management Of Consumer Expectations
At the famous No Man's Sky initial presentation at E3 two years ago, Sean Murray stated on stage 'It has resource farming, trading, planet ecologies, combat and (he pauses) many more things for you to look forward to'. The visual presentation at the time was impressive enough for us not to question that pause. This small development team having made just one mobile game prior to this one – he must have been nervous, right? Those things are indeed what you get… And that's about it. Each of these things in videogames usually add up to a winning formula, so what's the issue with No Man's Sky?
All Of That Is In The Game. To A Lesser Extent Than Was Ever Explained
Starting with resource trading, there really aren't that many resources to farm. While procedurally generated planets will throw all kinds of whacky plants, animals and rocks at you, you will have seen all resources to find after about five hours of play. Which is infinitesimal for a game like No Man's Sky. Trading obviously plays into the things that you dig up and profit can be made. I saw the best areas to spend money in, in exo suit upgrades and buying a new ship. Both have a part to play in growing a larger inventory space. You'll be begging for that inventory size increase far sooner than you'd like.
No Man's Backpack
Even to craft the simplest things, you'll need about five of eleven free slots (this is roughly starting inventory space) to create your end goal. Your suit will inform you of a full inventory more often than collecting things without complaining. This becomes a chore very quickly. Which has broken the cardinal rule of videogames. It's supposed to be entertaining, not a chore.
Next – the combat. Whether it is in space or on the ground, fighting against sentinels. It will basically come down to blamming away and hoping that your shield and health will hold out until the enemy is no more. You have to work very hard to enable your character to even run, giving the combat a sluggish and helpless feel which will eventually lead to apathy. This, for me, was the start of the downturn in my opinion of No Man's Sky.
A Few Decent Space Faring Ideas Bubble Up To The Surface
Yet Hello Games have come up with some interesting ideas for their universe. Different galaxies will be sparsely occupied by different alien races that will speak nonsense to you to start with. After several interactions and discoveries, you will gradually learn their language as your standing with them increases.
The only benefit to increasing this standing is to receive crafting blueprints… A lot of work for something that is littered on every planet you visit anyway! You'll also have a plethora of different ships to buy. These vary in cargo space, defence and firepower. If you see a ship that you want, simply approach it and barter with its owner. But you'd better be quick! It could fly away at any moment. Which is annoying when you can't run for most of the game.
On Occasion, No Man's Sky Will Treat Your Eyes
Graphically, No Man's Sky is not triple A level but it does have its moments. Climbing a large hill, reaching its apex to a wonderful view of the sunset and distant planets is undeniably poignant. A shame that these moments are surrounded by obvious texture popping as you approach a planet's surface. Or a weird vibrating double vision that later settles when approaching planets in hyperdrive. Most annoyingly – waypoints that are unreachable.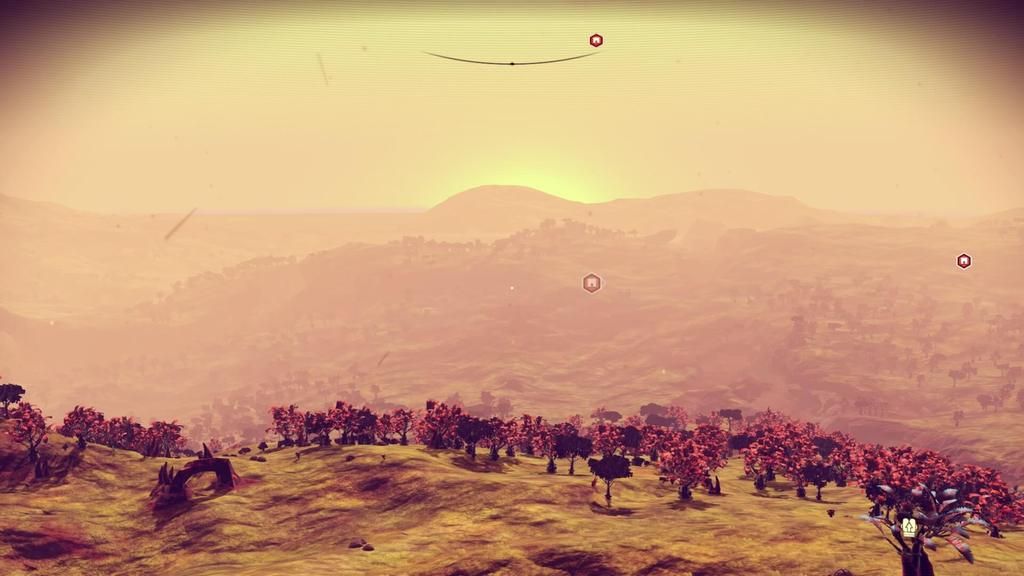 By this I mean, you may have a waypoint for a building pointed out to you. The ETA hovers around the same time the faster you go. This forces you to work around this annoying glitch by going SLOWER. Agonisingly you'll see 'ten minutes to arrival' when it could be as little as one. After this had happened several times on the same planet – a planet like any other that encourages me to discover everything on it – I was left with a choice. I could perpetually follow this marker and grow stronger negative opinions. Or I could leave the planet, trying somewhere else and grow negative opinions at a slower rate elsewhere. Extremely frustrating for completionist players.
The Painful Verdict
It deeply saddens me that No Man's Sky will be the lowest rated game on this website to date and as much it pains me, this is sadly the score it deserves. At the same time, Sean Murray and his team could well end up being the godfathers of a whole new way to create games. A method that is in its infancy that could well be refined into amazing experiences in the future. No Man's Sky stands as testament to the damage pre-marketing hype can do to a game's release. More importantly – that a best seller will never again be indicative of a good game.